Zikorn shpil for blind people using sound files
No screen reader or separate speech output required
Download it free of charge by clicking on here (about 16 MB)
After installation, please read the Readme file before using the program
Seeing persons which want to use the game, please deactivate the speech output at the beginning of the game, e.g. in the menu Speech output, menu item Deactivate.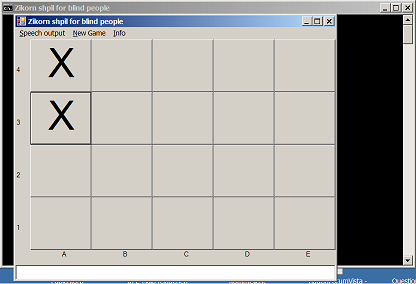 Click on picture to enlarge it
Features
the Zikorn playing cards are made audible as sound files
two selection modes for cards

via navigating through buttons representing the cards with the left, right, up or down arrow key
via entering the position of the card like A1 in a text field

own sound files in WAV format can be added or used instead of the predefined ones
operating via hotkeys
possible sizes of Zikorn shpil board

2 rows, 3 columns
2 rows, 4 columns
2 rows, 5 columns
3 rows, 4 columns
4 rows, 4 columns
4 rows, 5 columns
System requirements
Windows 10/8, .NET 2.0 runtime
License agreement
This program is protected by copyright laws and freeware.
The author is not liable for consequential, incidental or indirect damages of any kind arising out of the use of the program.
Copyright © by Ulrich Greve (2008)
---
---