Jewish Calendar Data Export Program
FREE DOWNLOAD - click here
[ Screenshot month calendar view | Screenshot All Day Event ]
The MS-Outlook data can be also synchronized with a Pocket PC, Organizer or Handys
(click here for other possibility for handys without Outlook synchronization)
as far as they support MS-Outlook Calendar Synchronization
Jewish date, also in subject line Screenshot month calendar view Screenshot All Day Event
Jewish holidays, also in subject line Screenshot month calendar view Screenshot All Day Event
Shabbat times according to individual defineable calculation algorithms Screenshot

Candle Lighting: minutes before sunset on Friday
End of Shabbat: minutes after sunset on Saturday or degrees below horizon

Zmanim according to individual defineable calculation algorithms Screenshot

Alot Hashachar: 72 minutes before sunrise, 90 minutes before sunrise, 16.1 degrees below horizon
Earliest Tallit: 11 or 10.2 degrees below horizon
Hanetz Hachama
Kriat Shema: GR"O, M"A
Tefila: GR"O, M"A
Chatzot: GR"O, M"A
Mincha Gedola: GR"O, M"A
Mincha K'tana: GR"O, M"A
Plag Hamincha: GR"O, M"A
Shkiat Hachama
Tzait Hakochavim: 72 minutes after sunset; 5.95, 6.5, 7.0, 7.08, 7.5 or 8.5, 8.75, 10.0 degrees below horizon
Sha'a Zmanit
Erev Pesach times: Vila Gaon, Magen Avraham Screenshot

Torah and haphtaroth readings
Omer count
Daf Yomi
Jewish anniversaries, birthdays and Yahrzeit Screenshot 1 Screenshot 2
Alternatively exporting Jewish birthdays, Yahrzeit or anniversaries also in the subject line for an individual range of years as All Day Events into MS-Outlook 2000 or higher - see Screenshot - or as an ICS file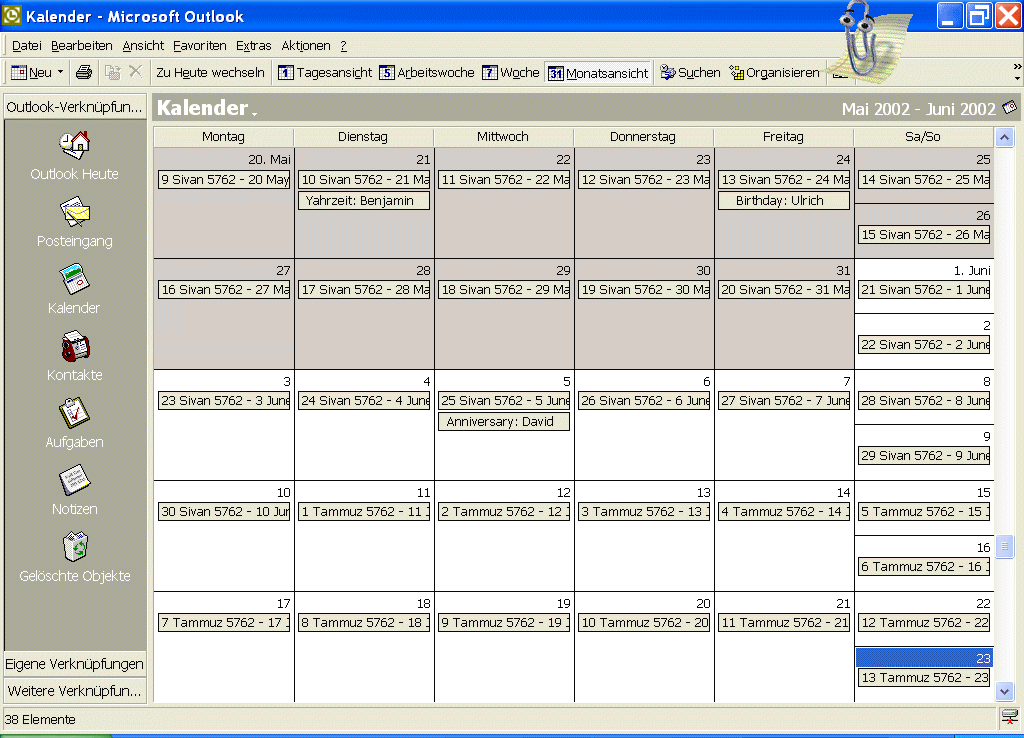 More features
Alternatively exporting Jewish birthdays, Yahrzeit or anniversaries also into a Windows text file with sorting by Hebrew months, Gregorian months or person's names for an individual range of years Screenshot
Exporting only Jewish holidays in the subject line into Microsoft Outlook or to an ICS file
System requirements: Pentium-PC or higher, Windows 8/10, Outlook 2000 or higher
---
The program can be downloaded by clicking on here.
Before downloading, read the License agreement.

This software is protected by copyright laws.
The author is not liable for consequential, incidential or indirect damages of any kind which arise out of the use of the software.
---
You can send the Jewish calendar data/Zmanim, which is imported into desktop Outlook, as a fax or SMS to your handy, e.g. the data of a day as a single fax or SMS.
In the Internet, you can find free of charge or inexpensive fax and SMS services.
In order that you can prepare the Outlook data easily for a SMS, that means e.g. to shorten the names of the Zmanim, I would help on demand.
---
Ulrich Greve
E-Mail: jewishsoftware@tichnut.de
Homepage: https://www.tichnut.de/jewish/
---
Click here to return to the website Jewish software