der tog far Linux
Version 3.0f - last updated on 9th May 2010
Download it here free of charge
Please read the README file in the downloaded .tar.gz file for further instructions!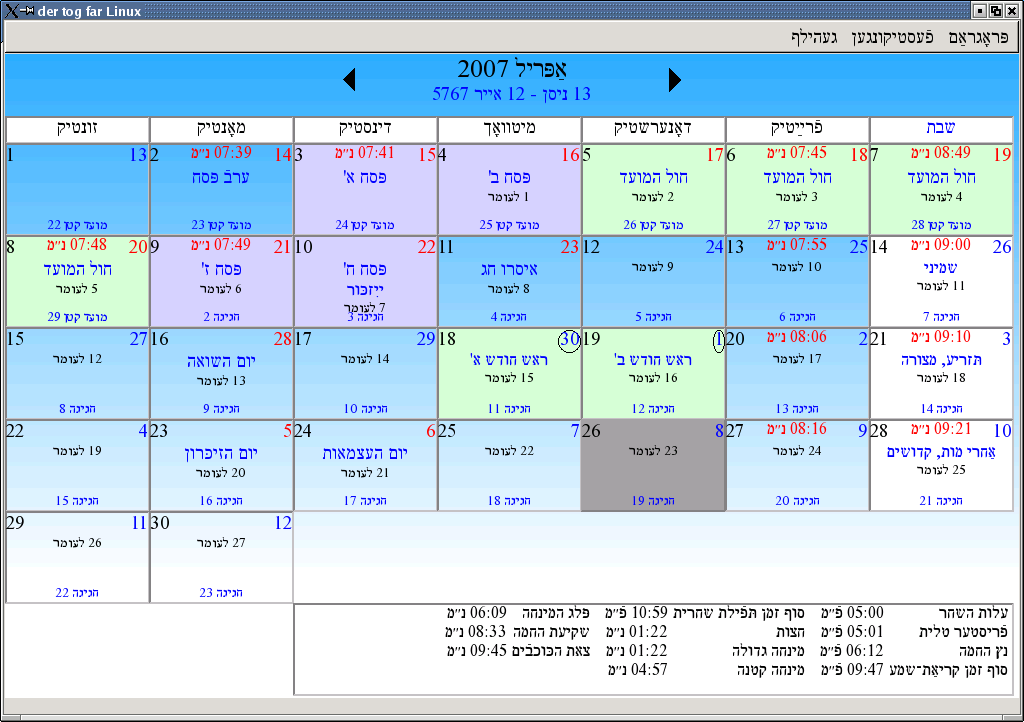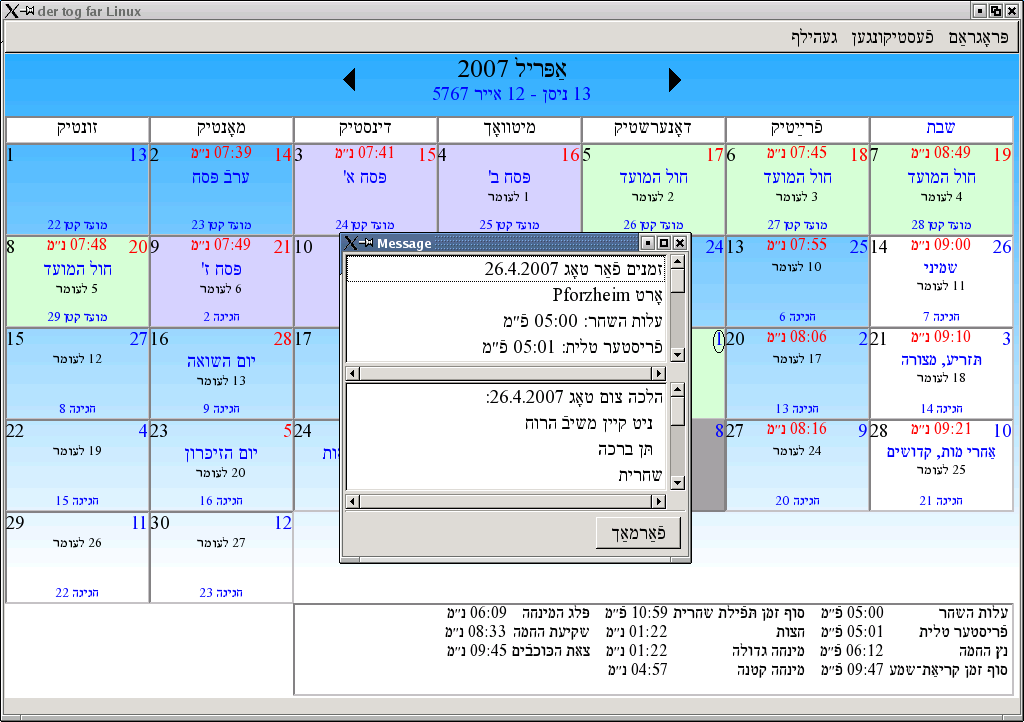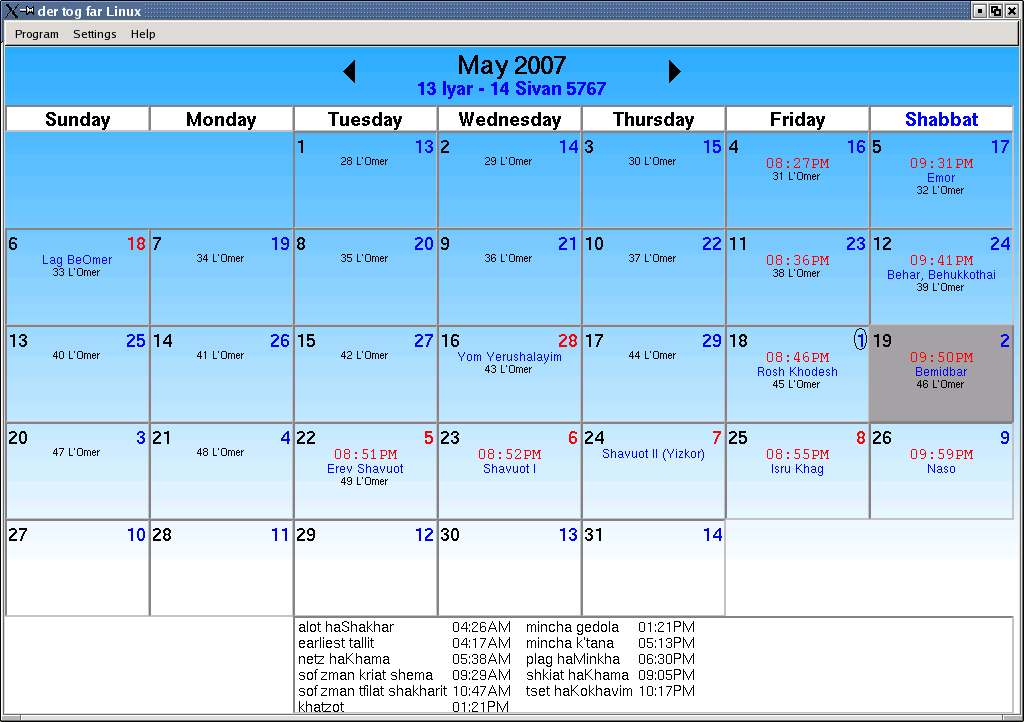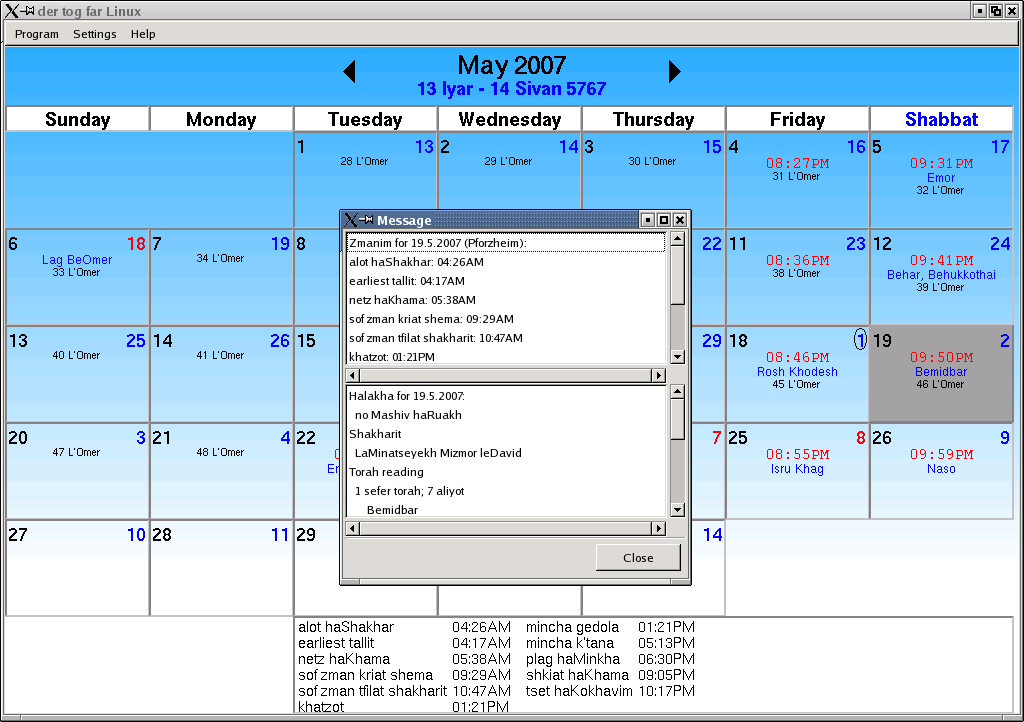 Jewish calendar with Jewish holidays (the holidays Yom Hazicaron and Yom Ha'atzmaut are also contained with the current rule), Omer counting, Yizkor, Shabbat times, Zmanim, names of the torah and haphtarot reading sections
Calendar view and user interface in English or

Yiddish

Supported Zmanim:

Alot Hashachar: 72 minutes before sunrise, 16.1 degrees below horizon
Earliest Tallit: 11 or 10.2 degrees below horizon
HaNetz HaChama
Kriat Shema: GR"O, M"A
Tefila: GR"O, M"A
Chatzot: GR"O, M"A
Mincha Gedola: GR"O, M"A
Mincha K'tana: GR"O, M"A
Plag HaMincha: GR"O, M"A
Shkia HaChama
Tzait Hakochavim: 72 minutes after sunset; 5.95, 7.08, 7.5 or 8.5 degrees below horizon

Daily Halacha information

, e.g.

standard additions: Mashiv haRuakh/Morid haTal; Teyn Berakha/Tal
Shakharit
Musaf
Minkha
Maariv

Own background image selectable
Anniversaries/Birthdays/Yahrzeit calculation
Over 1000 locations for times calculation predefined, own locations can be added
Optional consideration of Daylight Savings time with custom defineable method,

also for the new calculation method for Israel
System requirements: 64-bit Linux, GTK and fribidi shared libraries, graphics resolution of 1024 x 768 pixels in TrueColor mode
License Agreement:

The software is protected by copyright laws.
The author is not liable for consequential, incidental or indirect damages of any kind which arise out of the use of the software.
---
Ulrich Greve
E-Mail: ulrichgreve@tichnut.de
Website: https://www.tichnut.de/jewish/
---