OCR program for Yiddish/Hebrew
VERSION 1.9b
Last updated: 9 April 2021
Reads Windows Bitmap (BMP), TIFF, PNG or JPEG files or bitmaps from the clipboard, e.g. screenshots with the Print or Alt+Print key, line by line (the program does not fetch the images from the scanner itself) and recognizes Yiddish, Hebrew (also with Nikud) and Latin (Cyrillic and other alphabets should be also possible, but I did not test it) characters
NEW FEATURES:

VERSION 1.2: Reading multiple lines at a time - please read more details in the manuals
VERSION 1.3: Supports images in TIFF format
VERSION 1.4: Easy switching between adding new characters and character recognition each by one click
VERSION 1.5: Zoom feature
VERSION 1.5a: Enlarged window for defining new characters, so that characters with a size of over 400 dpi can be displayed correctly
VERSION 1.5b: Image rotating by 90° clockwise/counter-clockwise and 180°
VERSION 1.6: Improved direct input of letters, faster OCR processing and repeated loading of images, page rotating also in individual steps (degrees - without or with fractions, decimal point is a dot)
VERSION 1.7: Recognizing whole page without rectangle; recognizing multiple pages from a folder
VERSION 1.8: Supports images in PNG and JPEG format
VERSION 1.9: Improved tutorial, added refresh function via

F5

key
VERSION 1.9a: Updating tutorial, improved menu structure and shortcut Ctrl+R for better operating

FREE

Song lyrics in Yiddish and scores in MuseScore format (exportable to MusicXML) from Mordechai Gebirtig, Eliakum Zunser, Mark Warshawsky and others

here

"Fun A Welt Wos Iz Nishto Mer" (Yiddish version) by Israel Joshua Singer as a PDF file converted from Unicode text

here

Yiddish crossword puzzle

here
Download it free of charge at yiddishocr.msi. Before using the program, please read the tutorial with screenshots.
Screenshot: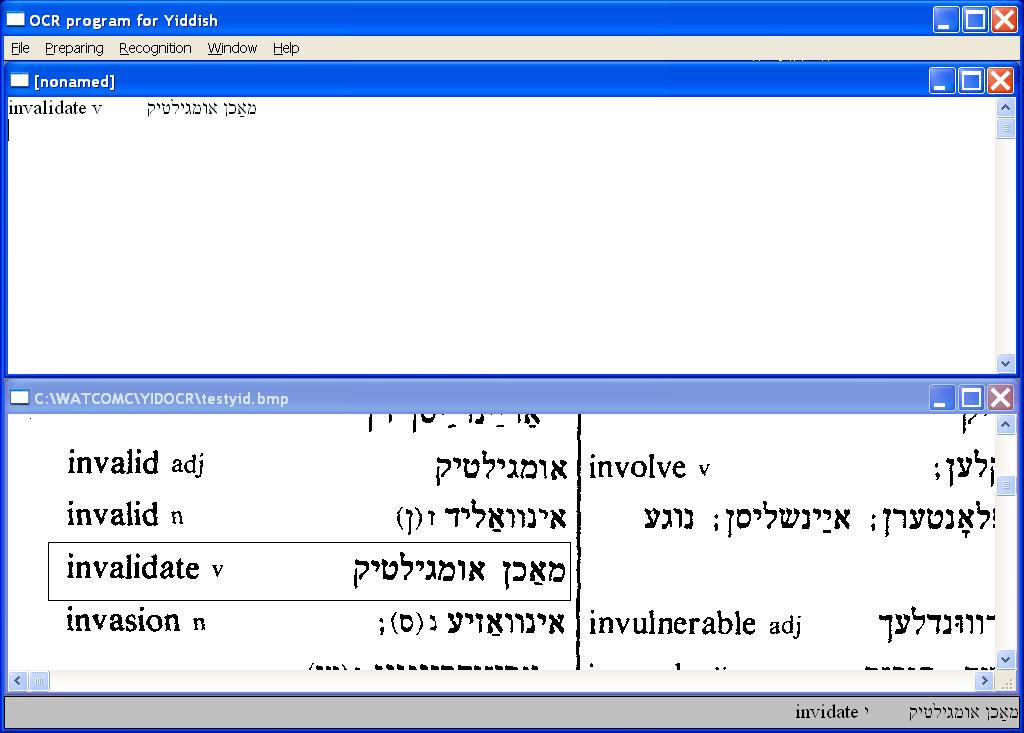 If you like this program, please give a donation to a non-profit Yiddish organization.
System requirements: Windows 8/10, graphics resolution of at least 1024x768 pixels, TrueColor
License agreement

The delivered software is protected by copyright laws.

The author is not liable for consequential, incidential or indirect damages of any kind which arise out of the use of the software.
---
Ulrich Greve
E-Mail: ulrichgreve@tichnut.de