MS Windows Vista/7/8
Web Development
Luach for Python
Blackberry
Luach for Linux
Zikorn Shpil
---
---
Design of this page: David Greve
For historical reasons, the design is not modern
TimeHelp-Software
FREE DOWNLOAD
---
Free of charge on- or offline Luach for all mobile phones/devices regardless of the operating system *

If you need a certification, please click here.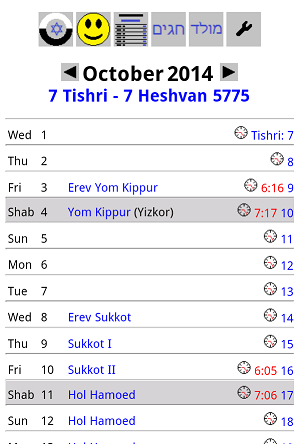 Click here for more information
* with Internet browsers supporting Offline Application Caching, JavaScript, Cascading Style Sheets and DOM Local Storage (most latest browsers support these features)
---
---
---
Sheet music for classical guitar:




David's Guitar Piece

Free download


Guitar piece for my primary school teacher of my second grade - I was 8 years old when this piece came to my mind

Free download
More sheet music here
---
Software for deaf and blind people - free of charge
---
---
Zikorn shpil using sound files for improving your memory, also suitable for blind people
All sounds (mostly guitar sounds) were recorded at home.
Here is a sound sample
---
---
Jewish Date Pro
Jewish Date Pro

Pasting the current Jewish date in Hebrew and Latin letters, via the clipboard into a word processor by clicking on an icon in Microsoft Word 2007 or by a hotkey in other word processors
using a Unicode font for the Latin and Hebrew letters
running under Windows Vista or Windows 7
---
---
Luach Sidebar Gadget

Click here to get more information about the powerful Luach Sidebar Gadget for Windows Vista/7.

Features: Day calendar view, Jewish date into clipboard feature, Halakha data with Molad, Shabbat Times, Zmanim, Rosh Hodesh, Daf Yomit, Mishna Yomit, Yerushalmi Yomit, Birthday/Anniversaries/Yahrzeit reminder, Yizkor, Daylight saving times, Omer counting, Flyout with Sefirass Haomer and shir on memory of Rabbi Shimon Bar Yohay and much more
---
Ulrich Greve
E-Mail: jewishsoftware@tichnut.de
Website: http://www.tichnut.de/jewish/
---
*) CorelDRAW is a trademark or registered trademark of Corel Corporation and/or its subsidiaries in Canada, the United States and/or other countries.