MS Windows Vista/7/8
Web Development
Luach for Python
Blackberry
Luach for Linux
Zikorn Shpil
---
---
Design of this page: David Greve
For historical reasons, the design is not modern
With much space for own entries, columns can be added, e.g. for using as a family planner or shabbat times of several locations
If you want to have another language like French, Russian, German, Swedish, Spanish, Portuguese, Dutch, Turkish ..., give me a note.
---
If you want to have another language like French, Russian, German, Swedish, Spanish, Portuguese, Dutch, Turkish ..., or if you want to have included your shabbat times with the logo of e.g. your synagogue, give me a note.
---
AllLuach
Free of charge on- or offline Luach for all mobile phones/devices regardless of the operating system *
also suitable for Jewish congregations who want to provide a Luach for smartphones to their members where the own, exact Shabbat times of the congregation are included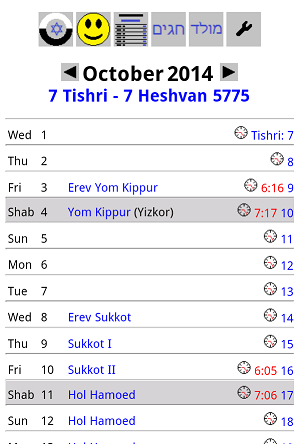 Click here for more information
* with Internet browsers supporting Offline Application Caching, JavaScript, Cascading Style Sheets and DOM Local Storage (most latest browsers support these features)
---
TimeHelp-Software - Time orientation, with individual images and sound files, for elderly people and people suffering from dementia without any computer skills in their daily routine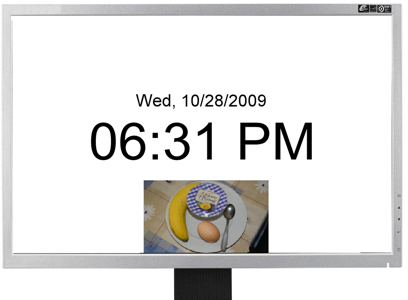 ---
---
Free sheet music for classical guitar:




David's Guitar Piece

PDF here


Guitar piece for my primary school teacher of my second grade - I was 8 years old when this piece came to my mind

PDF here
---
Software for deaf and blind people - free of charge
---
---
Zikorn shpil using sound files for improving your memory, also suitable for blind people
All sounds (mostly guitar sounds) were recorded at home.
Here is a sound sample
---
Jewish Calendar Data Export Program
Jewish Calendar Data Export Program
exporting calendar entries into MS-Outlook

, e.g. suitable for synchronization with PDAs, Pocket PCs, Organizers, Mobile Phones which support MS-Outlook synchronization

saving exported entries into an iCalendar/ICS file which can be used e.g. for the standard calendar of Microsoft Windows Vista

running under Windows Vista or Windows 7
Screenshots are also available
---
Jewish Date Pro
Jewish Date Pro

Pasting the current Jewish date in Hebrew and Latin letters, via the clipboard into a word processor by clicking on an icon in Microsoft Word 2007 or by a hotkey in other word processors
using a Unicode font for the Latin and Hebrew letters
running under Windows Vista or Windows 7
---
LuteTuner for Android mobile phones incl. Galaxy Tab (Android 2.1 or higher)
for 8-course Renaissance lute and 11-course Baroque lute
choosable tuning with 440 Hz and 415 Hz
First, my brother David has written a version for Windows Vista/Windows 7 and Pocket PC for our father's lutes.
The software is written only for our family's needs, but now other people can download it free of charge.
The version for Windows Vista/7/8 can be downloaded here, and for Android here.
License agreement
The software is protected by copyright laws.
The authors are not liable for consequential, incidential or indirect damages of any kind which arise out of the use of the software.
---
DIN A6 Luach with 16 months using two DIN A4 pages
Produce Luchot quickly and inexpensively for Jewish congregations

Click on picture for more information


---
Luach 5773 as PDF files for DIN A0, DIN A1, DIN A4, DIN A5 format or for creating booklets
for Jewish congregations or sponsors who want to improve their synagogue
sample files in English for the whole year free downloadable
FREE DOWNLOAD Luach 5774 in Yiddish in DIN A4 format as a PDF file
DEMO DOWNLOAD Luach in Hebrew with Zmanim for each day in
PDF format or in SVG vector graphics format which can be also edited
In order to view the SVG file correctly, save it to your hard disk and view it with a proper SVG program (not a web browser). I tested it with CorelDRAW®*) and the free program Inkscape™.
---
Luach Sidebar Gadget

Click here to get more information about the powerful Luach Sidebar Gadget for Windows Vista/7.

Features: Day calendar view, Jewish date into clipboard feature, Halakha data with Molad, Shabbat Times, Zmanim, Rosh Hodesh, Daf Yomit, Mishna Yomit, Yerushalmi Yomit, Birthday/Anniversaries/Yahrzeit reminder, Yizkor, Daylight saving times, Omer counting, Flyout with Sefirass Haomer and shir on memory of Rabbi Shimon Bar Yohay and much more
---
Ulrich Greve
E-Mail: jewishsoftware@tichnut.de
Website: http://www.tichnut.de/jewish/
---
*) CorelDRAW is a trademark or registered trademark of Corel Corporation and/or its subsidiaries in Canada, the United States and/or other countries.